Ying Yang (Jet Li) uses a P90TR during the oil tanker sequence.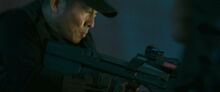 The FN P90 is a personal defense weapon (PDW) designed and manufactured by FN Herstal in Belgium. Created in response to NATO requests for a replacement for 9×19mm Parabellum firearms, the P90 was designed as a compact but powerful firearm for vehicle crews, operators of crew-served weapons, support personnel, special forces and counter-terrorist groups.
Ad blocker interference detected!
Wikia is a free-to-use site that makes money from advertising. We have a modified experience for viewers using ad blockers

Wikia is not accessible if you've made further modifications. Remove the custom ad blocker rule(s) and the page will load as expected.