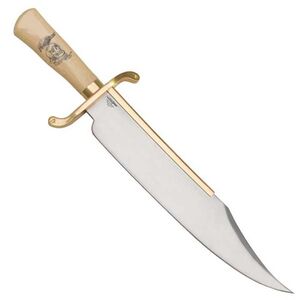 Gil Hibben designed this knife Bowie for the Expendables movie. The knife was used by Gunnar (
Dolph Lundgren
), but then by Lee Christmas (
Jason Statham
) after Gunnar was kicked out of the Expendables following his actions during the mission off the coast of Somalia. It is used by Christmas in the final battle scene where he throws it through the chest of Monroe after Ross (
Sylvester Stallone
) shot Monroe several times. In the last scene in the bike garage, the handle of the knife can be seen, wielded by Gunnar, showing that he is back in the expendables.
Ad blocker interference detected!
Wikia is a free-to-use site that makes money from advertising. We have a modified experience for viewers using ad blockers

Wikia is not accessible if you've made further modifications. Remove the custom ad blocker rule(s) and the page will load as expected.