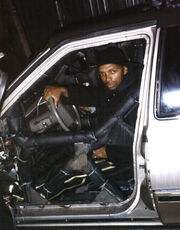 Jalil Jay Lynch 
is a multi-Taurus nominated stunt performer, coordinator and stunt doubler who does mainly motorcycle and car crash stunts for numerous leading actors such as Jamie Foxx, LL Cool J, Columbus Short and DMX. His TV show credits include: "The Shield," "Oz," "The Sopranos," "24" and "Sleeper Cell" (the latter two were both with
Henry Kingi Jr.
).
He performed stunts in films such as Money Train (doubling for Wesley Snipes), Rush Hour, Hannibal, Bad Boys II (with Eddie J. Fernandez), Cradle to the Grave, Collateral, Deja Vu, American Gangster, Fighting, Black Dynamite (with Michael Jai White), Che: Part One (with Eddie J. Fernandez), Limitless, Tower Heist and Texas Killing Fields.
In The Expendables, he played the one of the many remaining pirates to be shot by Barney Ross on the ground. On Lynch's Twitter, he remarked about what a fun experience the making of the film was.
Ad blocker interference detected!
Wikia is a free-to-use site that makes money from advertising. We have a modified experience for viewers using ad blockers

Wikia is not accessible if you've made further modifications. Remove the custom ad blocker rule(s) and the page will load as expected.