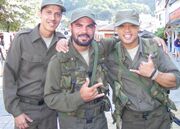 Jon Valera 
is an American martial artist, fight choreographer, assistant fight coordinator and performer who portrayed one of Garza's guards at the dock escape sequence in
The Expendables
.
His credits include the TV show "Mortal Kombat: Conquest" and movies such as Windtalkers, The Scorpion King (with The Rock), We Were Soldiers, Cradle 2 the Grave (with Jet Li and Randy Couture), Collateral, Serenity, Mission: Impossible III, Letters from Iwo Jima, 300, Street Kings (with R.A. Rondell), Speed Racer (with Chad Stahelski), The Tournament (with Scott Adkins), Killer Elite (with Jason Statham), Haywire (with Eddie J. Fernandez), The Avengers (with Hank Amos), Safe (again with Statham), The Bourne Legacy, Escape Plan (with Arnie and Stallone) and The Wolverine.
Ad blocker interference detected!
Wikia is a free-to-use site that makes money from advertising. We have a modified experience for viewers using ad blockers

Wikia is not accessible if you've made further modifications. Remove the custom ad blocker rule(s) and the page will load as expected.