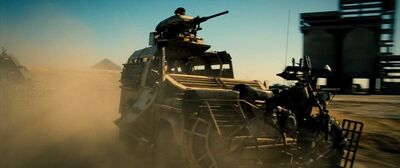 Land Rover Defender 110 is a British four-wheel-drive off-road utility vehicle.  The Expendables team used a modified two 4x4 and one 6x6, built with a custom battling ram and armament to assault the Nepalese Armed Forces sector and rescue Trench Mauser and Dr. Zhou
Portal Rover supplied the six Land Rovers for The Expendables 2.
Ad blocker interference detected!
Wikia is a free-to-use site that makes money from advertising. We have a modified experience for viewers using ad blockers

Wikia is not accessible if you've made further modifications. Remove the custom ad blocker rule(s) and the page will load as expected.