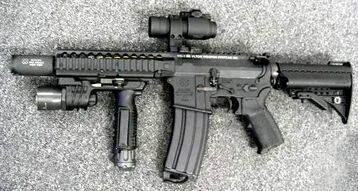 During the raid on Garza's compound, the majority of the Expendables can be seen carrying the Noveske Rifleworks Diplomat which is equipped with a Vltor VIS-1 monolithic upper receiver assembly. In February 2009, ISS (Independent Studio Services) received 12 Vltor VIS-1s with Diplomat barrel assemblies, with KX-3 flash-hiders. ISS also received 24 EMod stocks from Vltor, which were intended to be used in The Expendables. They are converted to full auto. Information and images from IMFDB.org.
Ad blocker interference detected!
Wikia is a free-to-use site that makes money from advertising. We have a modified experience for viewers using ad blockers

Wikia is not accessible if you've made further modifications. Remove the custom ad blocker rule(s) and the page will load as expected.