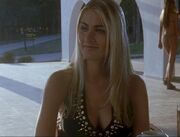 Petya Evtimova was a first assistant unit director on The Expendables 2. She has been an assistant/first/second unit director and/or production assistant on numerous releases by producer Avi Lerner's Nu Image/Millenium Films/Lionsgate Entertainment brand.
She has also acted twice, one of which was the infamously bad Shark Attack 3: Megalodon (pictured on the right).
Ad blocker interference detected!
Wikia is a free-to-use site that makes money from advertising. We have a modified experience for viewers using ad blockers

Wikia is not accessible if you've made further modifications. Remove the custom ad blocker rule(s) and the page will load as expected.