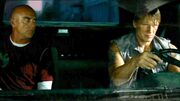 R.A. Rondell 
is a utility stunts performer, supervising stunt coordinator and stunt driver who occasionally acts. He played
Gunner's Goon
in
The Expendables
.
His credits include Jurassic Park, Clear and Present Danger (with Harrison Ford), The Matrix sequels (with Chad Stahelski), Haywire (with Eddie J. Fernandez) and The Avengers (with Hank Amos). His father is also an acclaimed stunt man/driver.
Ad blocker interference detected!
Wikia is a free-to-use site that makes money from advertising. We have a modified experience for viewers using ad blockers

Wikia is not accessible if you've made further modifications. Remove the custom ad blocker rule(s) and the page will load as expected.