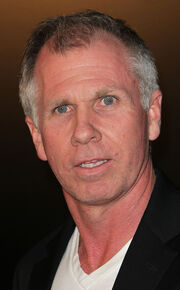 Richard Wenk (born 1956 in Plainview, New Jersey, USA) is a screenwriter and director who co-wrote the main screenplay for 2012's The Expendables 2.
Wenk has also written and directed comedy films such as 1986's Vamp and 1999's Just the Ticket. In 2002, Wenk co-directed the horror thriller Wishcraft. In 2006, he penned the acclaimed screenplay for the action-packed Bruce Willis crime thriller 16 Blocks. In 2011, he co-wrote the remake of the Charles Bronson film of the same name, The Mechanic, starring Jason Statham. Wenk is currently writing for the upcoming movie version, of the hit 80s show of the same name, entitled The Equalizer, starring Denzel Washington.
Ad blocker interference detected!
Wikia is a free-to-use site that makes money from advertising. We have a modified experience for viewers using ad blockers

Wikia is not accessible if you've made further modifications. Remove the custom ad blocker rule(s) and the page will load as expected.