Simon West
Birthdate
1961
Birthplace
Letchworth, Hertfordshire, England
Character
Director
IMDB profile
[view] • [talk]
Simon West is an English director who directed The Expendables 2, replacing Sylvester Stallone (so he can focus more on the writing aspect), who directed the original film, The Expendables. In the past, West has directed thrillers such as The Mechanic (with Jason Statham, Hank Amos & Eddie J. Fernandez), Con Air, When A Stranger Calls and Lara Croft: Tomb Raider.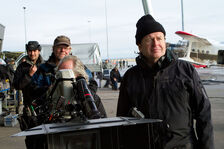 Ad blocker interference detected!
Wikia is a free-to-use site that makes money from advertising. We have a modified experience for viewers using ad blockers

Wikia is not accessible if you've made further modifications. Remove the custom ad blocker rule(s) and the page will load as expected.