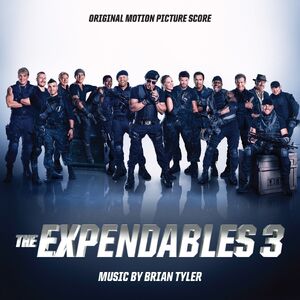 The Expendables 3 Original Motion Picture Soundtrack is an unofficial compilation of the music for The Expendables 3, the second sequel of The Expendables and release in August 14, 2014. All of the music on the soundtrack was composed by Brian Tyler.
Like the first and second album it can only order it by digital download.
Track List
Edit
The Drop [2:29]
Lament [2:00]
Right on Time [3:14]
The Art of War [0:58]
Stonebanks Lives [5:27]
Too Much Faith [2:37]
Late for War [3:18]
Descent Into War [3:57]
Bring You Luck [1:55]
Infiltrating the Block [5:25]
Threat Doubled [2:29]
Galgo's Grand Entrance [0:29]
Look Alive [5:33]
Package Secured [2:55]
We Were Brothers [3:57]
The Last Window [2:04]
Valet Parking Done Right [3:26]
Moral Chess Game [2:02]
Armored Freaking Transport [6:02]
External Link
Edit
Ad blocker interference detected!
Wikia is a free-to-use site that makes money from advertising. We have a modified experience for viewers using ad blockers

Wikia is not accessible if you've made further modifications. Remove the custom ad blocker rule(s) and the page will load as expected.