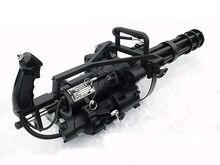 The M134 Minigun is a 7.62×51mm NATO, six-barrel machine gun with a high rate of fire (2,000 to 6,000 rounds per minute) which can also fire at a high-sustained rate.It features Gatling-style rotating barrels with an external power source, normally an electric motor. The "Mini" in the name is in comparison to designs that use a similar firing mechanism but larger shells, such as General Electric's earlier 20-millimeter M61 Vulcan, and "gun" for a caliber size smaller than that of a cannon, typically 20 mm and higher.
The weapon is used by Hale Caesar to deadly effect in The Expendables 3.
Ad blocker interference detected!
Wikia is a free-to-use site that makes money from advertising. We have a modified experience for viewers using ad blockers

Wikia is not accessible if you've made further modifications. Remove the custom ad blocker rule(s) and the page will load as expected.