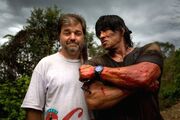 Wes Caefer was a visual effects supervisor on various blockbusters including 2010's The Expendables and 2014's science fiction picture Autómata (starring Antonio Banderas).
Behind the scenes
Edit
To see how Caefer helped with the visual computer effects for the first Expendables film, click here.
Ad blocker interference detected!
Wikia is a free-to-use site that makes money from advertising. We have a modified experience for viewers using ad blockers

Wikia is not accessible if you've made further modifications. Remove the custom ad blocker rule(s) and the page will load as expected.